For Patients
Televideo Visits
Whether you'd like a refill for medication or treatment plan for a mild injury, we're here for you.
CHN will always be here for you. That's why we're providing televideo visits so that you can receive quality care from the comfort of your own home. It's easy and you don't have to download anything. Learn how it works below.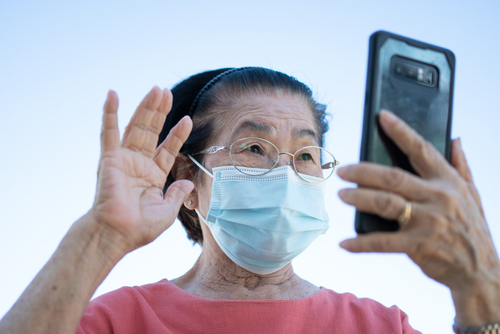 On the day of your visit
| | |
| --- | --- |
| 1. You will get a reminder text message or email with a link to join the video visit. When it's time for your visit, click the link to start the video visit with your doctor. | |
| | 2. If your doctor has not joined the call, you will be put in a virtual waiting room. Here, you will make sure that your microphone and camera are set up correctly. Click on the allow microphone and camera button. |
| 3. Your doctor will join you on the video call. They will expect you to have your video on. Make sure that you are in an area where any private information you may share during the visit is kept private. | |
Call (866) 246-8259 to plan a televideo visit.
Setting Up Your Device for Video Visits:
It's important to make sure your device is set up correctly so that you can successfully join the video call.
What types of devices will work for video visits?
You can use many types of devices for your video visit:
Windows desktop
Mac
iOS iPads
iOS iPhones
Android phones
Please note: Microsoft Surface tablets do not work with the video visit platform.
How to set up audio/video for your computer
If you are using Chrome:
Click the "Lock" icon in the top left-hand corner of the browser.
Set "Camera" and "Microphone" to Allow.
If you are using Safari:
Click "Safari" from menu in top left-hand corner of browser.
Select "Settings for This Website"
Set "Camera" and "Microphone" to Allow.
How to set up audio/video for your IOS iphone or ipad?
Use Mobile Safari browser:
Select "Allow microphone and camera" button.
A pop-up will appear that says "patient.lumahealth.io would like to access the Microphone and Camera." Select Allow.
How to set up audio/video for your Android?
Use Mobile Chrome browser:
Select the 3 dots at the top left-hand corner of browser.
Select "Site Settings"
Select "Clear & Reset"
Choose Allow.
What do I do if I get this error message?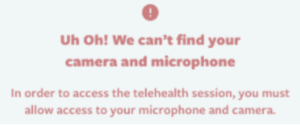 If you click allow microphone and camera and nothing happens, you likely need to change the settings in your browser. Follow the instructions above to set up your device.
I received an error message saying, 'Your browser is not supported.' How do I fix this problem?
Luma Health is only supported by certain browsers. Make sure you are using a browser that will work with the program. If you need to, you can download a browser from the app store or the web. After you download the browser, copy and paste the visit reminder message into the new browser to start your visit.
Browsers that work with Luma Health Video Visits
Device Type
Browsers:
Windows Desktop
Chrome, Firefox, Edge (Chromium only)
Mac
Chrome, Safari, Firefox
iOS iPad
Safari
iOS iPhone
Safari
Android
Chrome
Is there a way to test my device before my visit?
Yes. You can click here to check if your browser has access to your microphone and camera.
*Sometimes during the televideo visit the doctor or nurse practitioner will decide that the patient needs to come to the office for a vaccine or other injection, or a hands-on physical exam. They may also request lab work. You can find the closest lab to you via the links below:
**Televideo can also help determine whether a patient should stay at home or if they need a higher level of care such as urgent care or emergency services.
***Televideo can be done with a translation service free of charge to the patient in a number of languages.
For more information, visit our FAQs page.